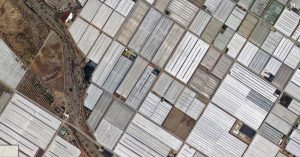 De serie "Plasticised Nature" is gebaseerd op de uitgestrekte kassen, opgetrokken uit vele km2 wit plastic. Deze kassen zijn te vinden langs de Zuid Spaanse kust en goed te zien op Google Earth. Uit deze kweekhuizen is veel van ons fruit en van onze (vaak biologisch gekweekte) groenten afkomstig. Vreemd genoeg komen veel biologisch gekweekt fruit en groenten uit dit geplastificeerde landschap. De aan Google Earth onttrokken foto hiernaast laat goed zien hoe het landschap door deze manier van werken is veranderd in een mozaïek van plastic.
Soms is een glimp of schim op te vangen van wat er achter of onder het plastic te vinden is, maar nog minder dan de Hollandse glazen kassen, is een glimp op te vangen van wat er binnen gebeurt. De mensen die er dag in dag uit werken blijven onzichtbaar voor de voorbijganger. Het lijkt een uitgestorven wereld.
Deze serie is gemaakt in de periode 2015-2016 en bestaat uit 16 foto's. Een selectie is in de zomer van 2016 geëxposeerd.
Foto's uit deze serie zijn te koop. Zie voor informatie over afdruk en prijzen het tabblad Kopen / Buy

The series 'Plastified Nature' is based on the vast greenhouses built of huge amounts of white plastic. These greenhouses are found along the southern Spanish coast and are clearly visible on Google Earth. From these cultivation houses, many of our fruit and (often organically grown) vegetables originate. It is strange in some way that organic fruits and vegetables are grown in this plasticised landscape. The photo taken from Google Earth shows how the landscape has changed in a mosaic of plastic.
Sometimes a shadow can be seen of what is available behind or under the plastic. It is a glimpse of what is happening inside. The people who are working in this world day after day remain invisible to the passer-by. It seems an extinct world.
This series is made in the period 2015–2016 and consists of 16 photographs. A selection was exhibited in the summer of 2016.
Photos from this series are for sale. For information about printing and prices tab Koop/Buy
---